Open Call for 2022 / Artist Residency Program AADK Spain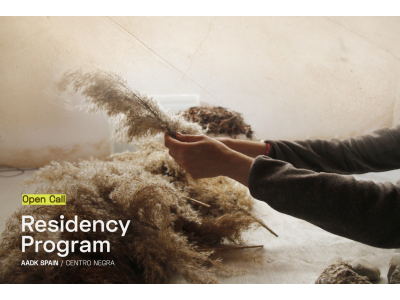 Type
Residency
Category
Installation, Mixed Media, Painting
Status
Archived
Deadline
August 15, 2021
Application Fee
Free
Host
Location
Valencia, Spain
Dear friends,

In the midst of a global scenario that is still looking for balance, we are filled with enthusiasm for the possibility of releasing this new Open Call. At AADK Spain, we continue working to facilitate spaces for creation and bring our resources closer to those who need time for reflection and experimentation within their artistic practice.
Today, our doors remain open, and we feel strangely and strongly equipped with the experience gained during these odd times.

We believe that all we have experienced during the periods of confinement and social distancing has deeply impacted our idea of ​​what is essential and what is relevant. Without a doubt, these times have also affected our sensory perception: in a matter of a few months, we became aware of the relevance of some of our most forgotten senses. The loss of smell became an indicator of our state of health, the need for bodily contact reminded us about the fragility of our emotional ties.

Touching is essential to our lives — it is estimated that within a day we touch around 150 objects and surfaces. Our contact with other human bodies is significantly less frequent than that, but nevertheless essential for our well-being.
Today, touching is a gesture that invites us to redefine: how do we touch our planet?, how do we connect with other living beings and with our peers?
We invite you to think about touch in all its complexity, reflecting, for example, on what we call textures – in image or sound – as a type of information that comes from a tactile experience.
We consider that, already immersed in this "new normality", it is essential to reflect on the limitations that have been imposed on touch as well as on our continuous turn towards a virtual world.
Re-discovering our tactile relationship with the world and reactivating our haptic perception – that set of non-visual sensations that an individual experiences to receive information – are the proposals of this call.

We look forward to your applications!
The AADK Spain team




AADK Spain invites all artists and researchers who wish to work on the topics of body, territory and spatiality to participate in its Artistic Residency Program. For this call, priority (not exclusive) will be given proposals that work with the topic of the haptic/tactile through any creative discipline (dance, performance, visual arts, work with new media or any other duly justified approach). Both individual and collective proposals are eligible.

AADK Spain understands residency programs as contextualized spaces where location models the practices and modifies both its participants and the local communities. Thus, our Artistic Residency is an interdisciplinary and socially committed program that offers its attendants a space for analysis and production. It aims to facilitate research in rural environments, highlighting the value of local knowledge as a means to re-think how these locations can position themselves in an era of massive urbanization through a social, historical and geographical perspective.

Throughout their stay, participants create a temporary community that shares experiences and processes, fostering debate and a transversal perspective of their projects. AADK Spain provides tutelage and curatorial follow-up as well as assistance in production and management of projects and Open Studios night on the last Saturday of each month. Additionally, participants are encouraged to keep in touch with us after their residency ends, so that we can promote their work in forthcoming exhibitions curated by our platform as well as in papers, conferences and/or publications.

The amount of participants varies every month, but reaches a maximum of six projects (including individual proposals or duos/collectives).

-Location: Blanca, Murcia region, Spain

- Duration: 1-6 months with 2 months being the recommended minimum for the full development of a project. The residency period starts on the first day of the first month and ends on the 30th day of the last month.

- The artists will have access to: accommodation, work space, access to common areas and outdoor space, basic technical equipment, support in production, mentoring and curatorial support, visibility of the artist in the communication channels of AADK Spain.

- Accommodation: private room in a shared house or individual apartment.

- Studio/Workspace:
Centro Negra is the main building of AADK Spain. It serves both as working area and exhibition space. It is located on the slope of a mountain, being reachable only by foot, and stands at the foot of a Moorish castle from the twelfth century.Its architecture is an assembly of small poultry yards and ancient houses that fell into disuse at the beginning of the twentieth century. It still retains many stone walls and mountain ledges.
The current structure is made up of 6 different and interconnected spaces. Each of them is unique in its size and morphology, constituting a set of great versatility and capable of adapting to multiple purposes. Given the morphology of the building, closedworkspaces are not possible. We invite you to take on this challenge as an opportunity to be in touch with the creative processes of other participants.

- Application information:
To apply, read our Terms & Conditions and complete our on-line Registration Form. Keep in mind that when filling in the form, you will have to upload a single PDF (max. 10MB) including your CV, Bio and portfolio.
Those who do not wish to use a Google account can also apply by completing the downloadable version of the application form and sending it to info@aadk.es along with a single pdf containing their CV, biography and portfolio (max. 10 MB)
Find all documents on our website.