ANOTHER DAY IN PARADISE - Venice 2021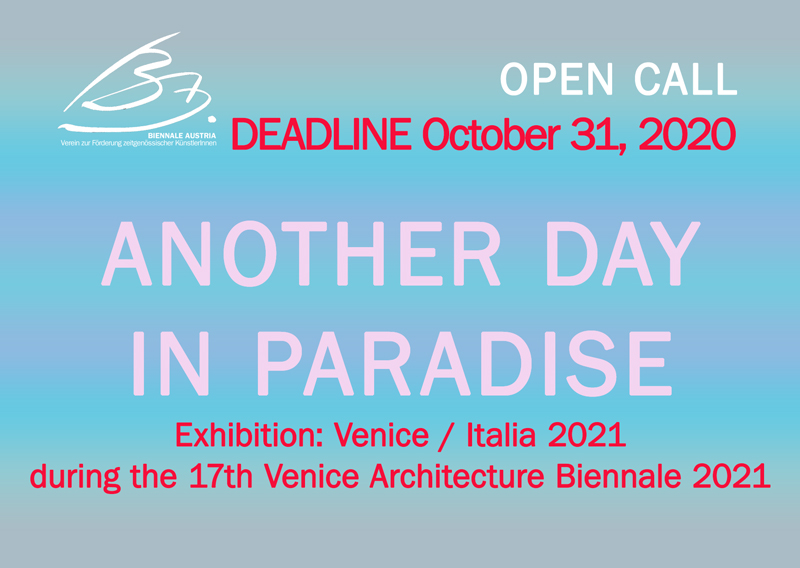 Type
Exhibition
Category
Curating, Drawing, Mixed Media, Painting, Photogra...
Status
Archived
Deadline
October 30, 2020
Application Fee
Not Available
Host
Location
Venice, Italy
Dear artists,
Due to the Covid-19 pandemic, there were postponements and cancellations worldwide, especially in the arts, culture and event sector.
Unfortunately, this also applies to our international exhibition project ANOTHER DAY IN PARADISE, which was to take place from 3 to 14 October 2020.
We had previously agreed with our Italian partner organization that if the Covid-19 pandemic resulted in a major change for us, we would seek a replacement date for 2021.
On the part of the Venice Biennale Organization, the 17th Architecture Biennale was finally and definitely postponed in May 2020 to 2021. Since that date, we have been in extensive conversation with our Italian partner organization for a new exhibition date for 2021 during the 17th Architecture Biennale in Venice.
The exhibition theme ANOTHER DAY IN PARADISE is inspired by the main theme "HOW WE WILL LIVE TOGETHER?" of the 17th Architecture Biennial.
Our interest is to reach an art-interested, international audience and this is given to a high percentage during the Architecture or Art Biennale in Venice. For the oneday tourists, who have only a few hours to visit Venice, it is hardly possible to visit an exhibition.
We hoped to announce a fixed exhibition date for 2021 by the end of June 2020, but our Italian partner organization still needs time due to the postponement of the 17th Architecture Biennial to 2021 caused by the worldwide Covid-19 pandemic and the resulting scheduling chaos.
In recent weeks, we have received many requests from artists if it is really possible that the organizational uncertainties - uncertainty in transport or still existing exit or entry restrictions – will already be lifted by October 2020.
The association Biennale Austria has now decided to take two measures:
1. The exhibition ANOTHER DAY IN PARADISE will take place during the 17th Architecture Biennale in Venice 2021. The exact date will be announced as soon as possible.
2. The OPEN CALL for this exhibition project ANOTHER DAY IN PARADISE will be extended until 31 October 2020.
We hope that our decisions are welcome and that many artists will take advantage of the opportunity to participate in this exhibition project.
Applications received by 30 June 2020 remain valid unless the artist makes a different decision. Then we transfer back the already paid organization fee.
The Covid-19 pandemic requires decisions from us that only will work if both the organizations and the artists respond flexibly and openly to these challenges.
We look forward to an exciting exhibition in Venice in 2021 and we want to thank you for your understanding.
Elisabeth Rass
Founder / CEO
BIENNALE AUSTRIA
Verein zur Förderung zeitgenössischer Künstler
Schottenfeldgasse 19/8
A-1070 Wien / Austria
art-director@biennaleaustria.org
www.biennaleaustria.org