Little Fun Palace Nomadic School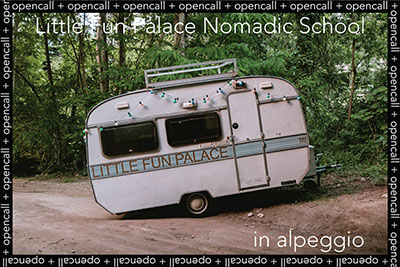 Type
School & Class
Category
Architecture, Design, Other, Performance
Status
Archived
Deadline
July 21, 2020
Application Fee
Not Available
Host
Location
Enter City, Italy
Little Fun Palace Nomadic School is a project by OHT questioning how space produces reality. Its aim is to experiment new forms of learning and sharing-knowledge around Performing Arts. Considering space and landscape as aesthetic territories that have political implications without using the words of politics, the Nomadic School problematizes the Performing Arts by interacting with other disciplines such as Natural Sciences, Architecture and Anthropology. Through workshops, experiments, meetings and micro-performances, participants will be encouraged to reconsider their centrality and periphery within a shared space such as the stage.
From 27 to 30 august will be in Alpeggio (alpine pasture), in Viote on the Bondone mountain, a natural biotope in Trentino - Alto Adige / Südtirol at 1600 mt above the sea level.
The Call is addressed to young architect, designer, theatre-maker, artists and to anyone interested in the production and perception of space.
12 participants will be selected and will be guaranteed board and lodging for the entire period.
The mentors of Little Fun Palace Nomadic School |Alpeggio are:
Annamaria Ajmone (dancer and choreographer)
Annibale Salsa (anthropologist and Member of the Scientific Committee of the Dolomiti-Unesco Foundation)
Attila Faravelli (musician and sound-designer)
Camposaz (self-construction workshop at 1:1 scale)
Deflorian / Tagliarini (authors, directors and performers)
Lisa Angelini (botanist and agroecologist, MUSE collaborator)
Mattia Venco (chef)
Mette Edvardsen (choreographer and performer)
Riccardo Venturi (historian and contemporary art critic)
Studio Folder (research and visual design agency)