InLight 2020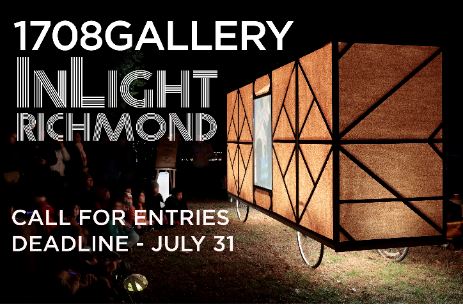 Type
Exhibition
Category
Activism, Conceptual, Digital, Film, Installation,...
Status
Archived
Deadline
July 30, 2020
Application Fee
Not Available
Host
Location
Richmond, United States
InLight 2020: Safety and Accountability
1708 Gallery is pleased to announce that its 13th annual InLight Richmond will take place from November 12th - 16th, 2020 at sites across Richmond and will address the paired themes of Safety and Accountability.
InLight is a public exhibition of contemporary light-based artworks—multimedia and interactive projects, video, projection, sculpture, installation, performance, community-based work, digital and virtual projects—and has historically taken place in a singular location each November. Past sites include Chimborazo Park, the streets, facades and alleyways of the downtown Arts District and the sculpture garden and grounds of the VMFA.
In response to COVID-19, InLight's multi-site platform will allow for socially distanced and virtual viewing. Further inspired by the ongoing community dialogues surrounding the unjust and inequitable treatment of Black lives and by Richmond's coming together in support and aid during these crises, this year is focused on Safety and Accountability.
1708 invites artists, community groups, and stewards of spaces in Richmond to propose projects that can illuminate issues of Safety and Accountability. We seek proposals that respond to what these key terms mean spatially, historically, socially, and politically. We invite proposals that demonstrate profound consideration for designated sites and their communities.
DEADLINE TO APPLY: Midnight (EST), Friday, July 31, 2020.
For more details about InLight 2020 and to apply, click below or visit 1708gallery.org