Open Call: Funded Residency: Creative Aging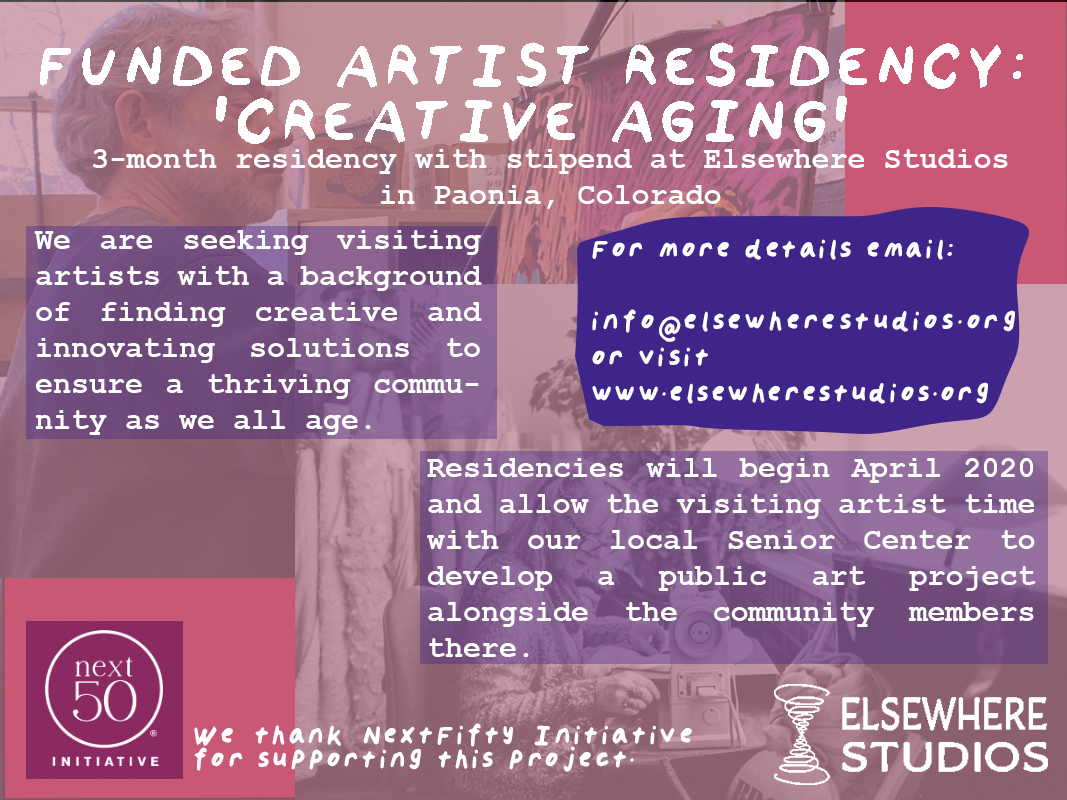 Type
Residency
Category
Activism, Architecture, Conceptual, Curating, Desi...
Status
Archived
Deadline
December 20, 2019
Application Fee
Not Available
Host
Location
Paonia, CO, United States
Thanks to NextFifty Initiative, Elsewhere Studios is pleased to announce a new project in collaboration with three other Paonia local organizations:
Engaging seniors to prevent isolation addresses and prevents isolation by creating innovative and engaging programming for our aging community. The program will be a collaboration between four Paonia local organizations and will bring weekly activities to the Paonia Senior Center in order to expand their offerings, enrich the quality of life for the senior population, and reinvigorate the community center. The activities will include outlets for creativity, relationship-building, and learning new skills through art projects, movie screenings, game days and movement/ balance classes. We envision a vibrant and energetic center that provides a diverse range of activities and events, becoming an active social hub for not only seniors but for multiple generations to engage within our community.
Each week we will provide a different social, creative, or exercise activity:
-Senior Movies in the Morning hosted by the Paradise Theatre
-Art Programming hosted by Elsewhere Studios
-Movement classes hosted by North Fork Senior Connections
-Game days hosted by North Fork Senior Connections

We are seeking visiting artists with a background of of finding creative and innovating solutions to ensure a thriving community as we all age.
Residencies will be three months long beginning in April 2020 to allow the visiting artist time with our local Senior Center to develop a public art project alongside the community members there. The public art project can be anything: a mural, a garden space, a story-telling project, etc. We are open to any project and are specifically looking for a proposal that showcases how the artist will engage with the older adults of the Senior Center and involve them in the process and execution.
The residency will be fully-funded and each artist will receive a living/ material stipend of $1550. Chosen artists are expected to spend half their time at the residency working on creating relationships and building a project in collaboration with the Senior Center, as well as offering (1) 2-hour art class each month at the Senior Center that will help build skills and interest. The other half of the artists' time during residence can be spent working on other projects, planning events, researching, or experimenting. We are open to collaborative projects.
We thank NextFifty Initiative for supporting this project.
About NextFifty Initiative:
NextFifty Initiative is a Colorado-based private foundation. The organization exists to create brighter, longer and healthier futures that unlock the potential of communities through an advanced funding approach. Through this work, communities are positioned to fully benefit from the wisdom and diverse experiences of a thriving aging population. Our approach applies a multitude of lenses in funding high-yield aging solutions that benefit people age 50 and older. NextFifty Initiative focuses on funding designed to support concepts, projects and innovations that will benefit generations for years to come. To learn more, please visit http://next50initiative.org/" target="_blank">next50initiative.org.
Contact info@elsewherestudios.org for more information.