Open Call: Funded Parent Residency at Elsewhere Studios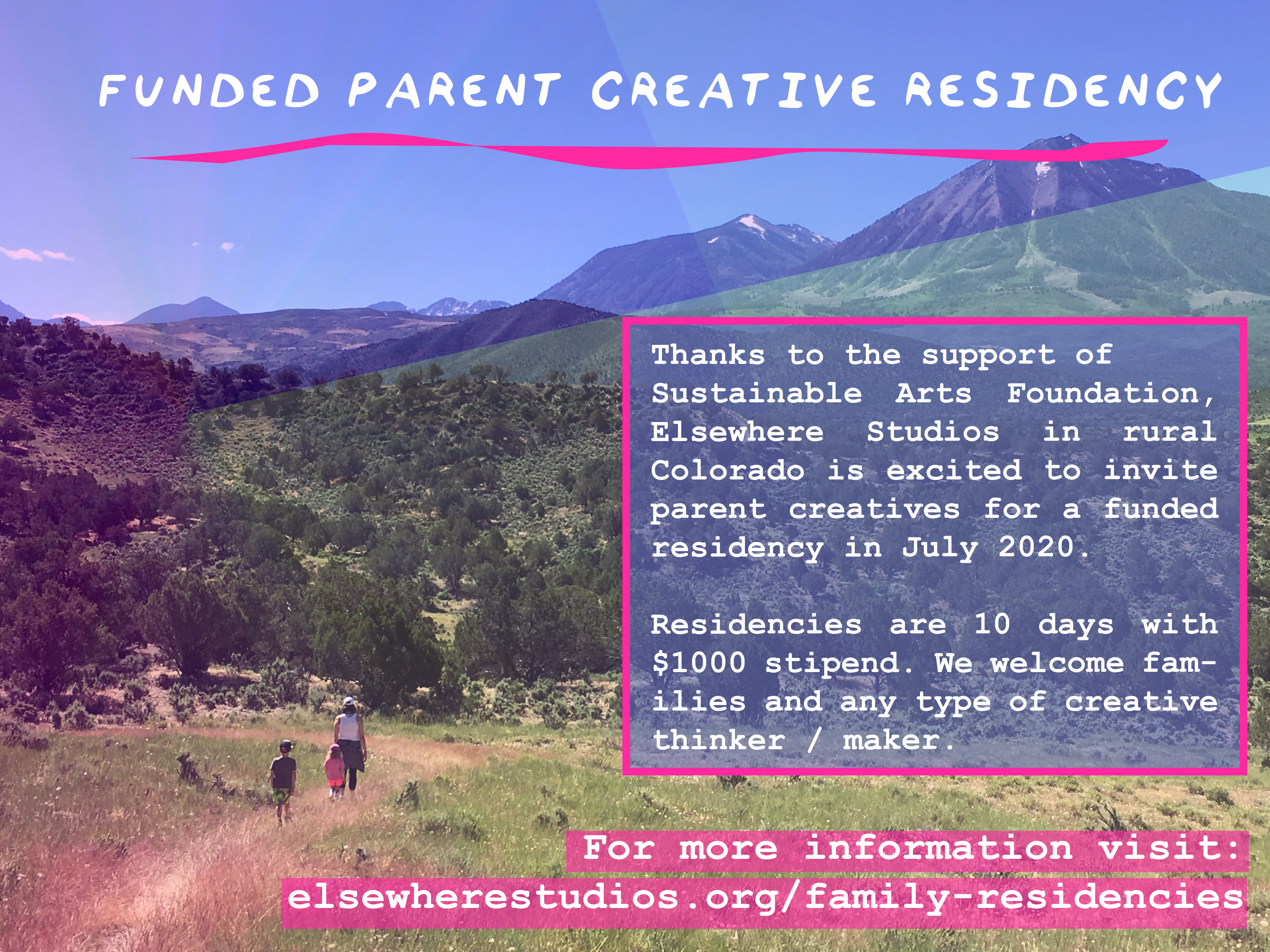 Type
Residency
Category
Activism, Architecture, Conceptual, Curating, Desi...
Status
Archived
Deadline
December 15, 2019
Application Fee
Not Available
Host
Location
Paonia, CO, United States
Thanks to the generous support of Sustainable Arts Foundation, Elsewhere Studios is excited to be able to offer another residency opportunity specifically to support parent artists during the month of July 2020!
Accepted artists have the choice to bring their spouse/ partner and children or come on their own. They are provided with living and studio space, and are awarded a stipend of $1000 for a week and a half-long residency. The artist has the freedom to use the stipend for childcare, bills, travel / material costs, or for summer camp fees for children (there are several in Paonia.) Elsewhere staff can assist in connecting parent artists to childcare, summer camps, additional housing, etc. Families will be housed in either the Basement Apartment: an independent living / studio space with its own kitchen, bathroom and sauna in the lower level of the main house, or the Suite: the upstairs living / studio space with two bedrooms, its own bathroom and shared kitchen. Two families-in-residence will overlap during their 1.5 week long residency, giving the opportunity for collaboration, shared childcare/meals/experience, etc. We are happy to have the children pursue their own creative pursuits as part of the residency and will include them (if they desire) in critiques, open studios, and other Elsewhere events.
About Elsewhere and Paonia:
Elsewhere Studios exists in the heart of the small, vibrant mountain town of Paonia, Colorado. Located on the western slope of the Rockies, Paonia has a population of about 1500 with another 5000 in the surrounding mesas. The town is rich with creativity and is home to many organic orchards, farms and vineyards. Though small, Paonia doesn't have a lack of things to do for families, especially during the summer!
The Paonia Library is just two blocks away and offers lots of kid friendly activities. The Paonia River Park and Paonia Town Park are both about 5 blocks away with great playground and shaded open spaces. Go check out a movie or music at the local theater, The Paradise, which is just right around the corner. The Blue Sage Art Center offers classes, workshops, and kids camps (such as circus arts or animation and movie-making). Cherry Days, an annual festival in July, is a fun-filled weekend featuring live music, food and parades. Delicious Orchards, two miles from Elsewhere Studios, is a great place for families to enjoy local delicious food and beverages while listening to live music as part of their summer BBQ Concert Series. We also have bicycles available for use by both adults and children.
Elsewhere Studios thanks Sustainable Arts Foundation for making it possible to offer this opportunity a second time, supporting family friendly residencies for 2020.
To find out more about this residency opportunity, contact Carolina Porras at info@elsewherestudios.org