The Los Angeles Billboard Art Exhibition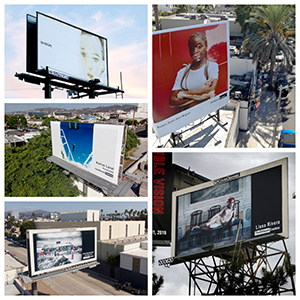 Type
Competition
Category
Activism, Conceptual, Design, Digital, Drawing, Mi...
Status
Archived
Deadline
October 22, 2019
Application Fee
Not Available
Host
Location
Los Angeles , United States
The Billboard Creative (TBC) is accepting submissions from all art disciplines now through October for its 5th annual billboard art show, which will be presented on billboards across Los Angeles.
TBC is passionate about helping emerging and underrepresented artists break through traditional career bottlenecks. For the past six years we have helped artists gain access to the LA market and beyond, presenting mass-scale art on more than 130 billboards that together have been passed by cars more than 45 million times.
We are excited to announce that Christopher Vroom, founder of Artadia, a non-profit that identifies innovative visual artists and supports them with grants and opportunities to connect with arts institutions, fairs, and curators, has signed on to curate this show. Now in its 20th year, Artadia has provided nearly $7 million of support to U.S. artists. Other arts ventures founded by Christopher include Art+Culture Projects and Artspace.com, organizations that work to broaden awareness of the artists while creating sustainable sources of income for both artists and the programs showcasing their work, and his most recent endeavor, CollectorIQ, a sales platform for fine art