Call for Entries "America Is ..." National Juried Show, Touchstone Gallery, Washington, DC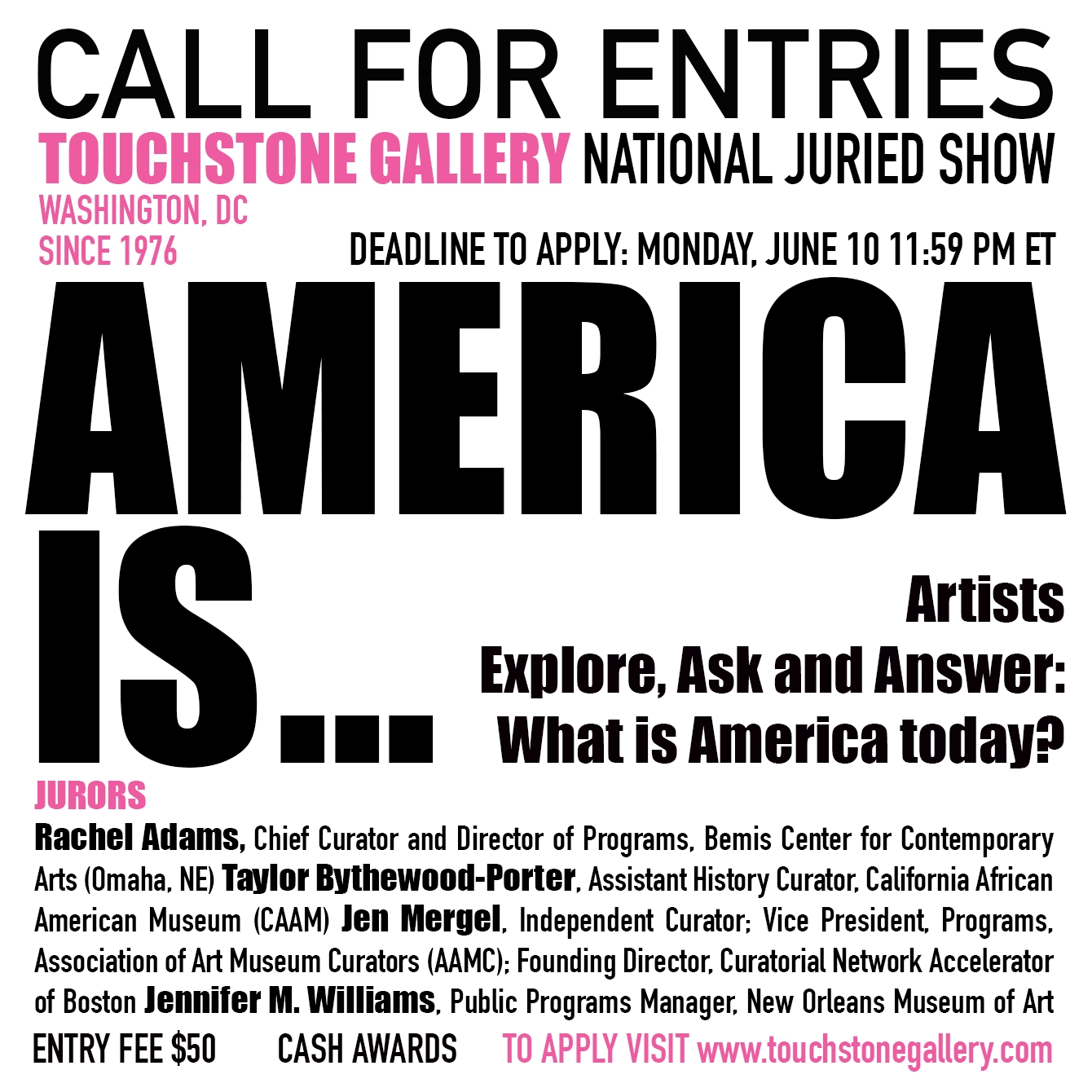 Type
Competition, Exhibition, Other
Category
Activism, Architecture, Conceptual, Curating, Desi...
Status
Archived
Deadline
June 9, 2019
Application Fee
Not Available
Host
Location
Washington DC, United States
Founded in 1976, Touchstone Gallery, located in a modern street-level space in downtown Washington, DC is seeking entries for "America Is ..." a National Juried Show scheduled for August 2 - 29, 2019. Artists are asked to submit artwork that will Explore, Ask and Answer: What is America today?
Jurors:
- Rachel Adams, Chief Curator and Director of Programs, Bemis Center for Contemporary Arts (Omaha, NE)
- Taylor Bythewood-Porter, Assistant History Curator, California African American Museum (CAAM)
- Jen Mergel, Independent Curator; Vice President, Programs, Association of Art Museum Curators (AAMC); Founding Director, Curatorial Network Accelerator of Boston
- Jennifer M. Williams, Public Programs Manager, New Orleans Museum of Art
AWARDS Four artworks will receive Juror's Best in Show Prize of $250
ENTRY FEES $50 for up to 3 entries/files; artists may submit up to 3 additional entries/files at a cost of $10 per additional entry. Submit one file per piece entered. Entries are accepted via Submittable.
DEADLINE TO APPLY: Monday, June 10, 2019, 11:59 PM ET.