innocence Call for Entries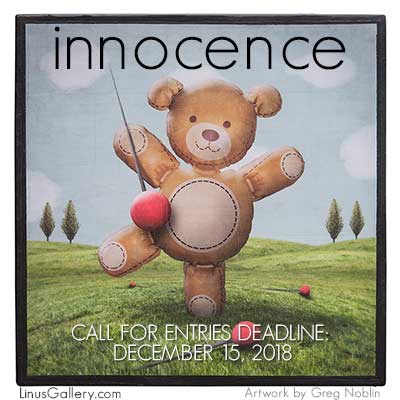 Type
Competition
Category
Conceptual, Design, Digital, Drawing, Mixed Media,...
Status
Archived
Deadline
December 14, 2018
Application Fee
Not Available
Host
Location
Los Angeles, United States
Innocence is defined as being without corruption, guile, or guilt, or worldly sophistication, but also it defines a time in life of joy and naivete. It's the embodiment of purity, of virginity, and freedom from blame. Most innocence from children fades with time and experience, but watching the innocent play joyfully and candidly is a soulful experience. Where is your innocence? Where is your inner child? Is it in the past? Is in the present? Is it in politics? Is it in culture? Does innocence make our world better? Or worse? In this call for entries we are asking for the artist's interpretation of innocence. This is an online art show.
Art calls are open to all local, domestic, national and international professional and amateur artists. All art mediums will be considered in this call for submissions, from photography, wall sculpture, ceramics, fabric, mixed media, all paintings and drawings including, oil, acrylic, pastels, ink, graphite, etc.
Cost: $35 for 3 entries, $5 for additional entries.