Mexican Textiles or Natural Pigments Instructional Residency - Arquetopia - Oaxaca, Southern Mexico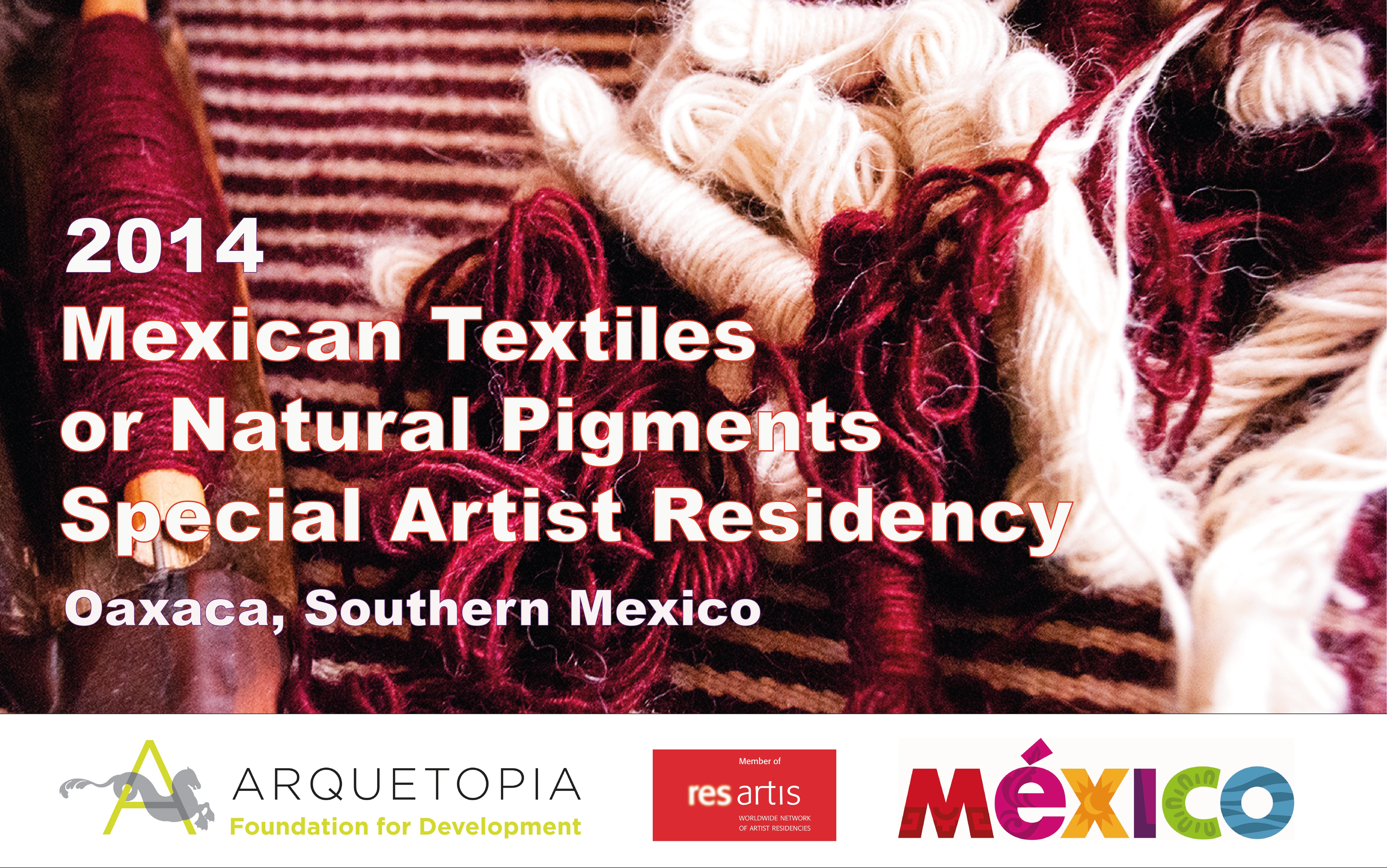 Type
Residency, School & Class
Category
Activism, Architecture, Conceptual, Curating, Desi...
Status
Archived
Deadline
January 25, 2014
Application Fee
Not Available
Host
Arquetopia Oaxaca International Artist Residency – Oaxaca, Mexico
Location
Oaxaca, Mexico
With master instruction, learn to make Mexican Textiles or Natural Pigments in the multicultural kaleidoscope of Oaxaca, southern Mexico. Extendable 3-week terms during 2014. Application Deadline Sunday, January 26, 2014.
ARQUETOPIA
Arquetopia is a nonprofit foundation for visual arts and music, run entirely by artists. Arquetopia's programs promote development and social transformation through contemporary art with a non-traditional, culturally diverse and multidisciplinary approach. Arquetopia offers artist residency programs of the highest quality, making its staff available and creating a community among staff and resident artists. Arquetopia's resident artist and staff backgrounds are diverse in all aspects. As part of Arquetopia's mission is to promote diversity, artists from Africa, Asia, Eastern Europe, Latin America and the Middle East are especially encouraged to apply.
MEXICAN TEXTILES SPECIAL ARTIST RESIDENCY
NATURAL PIGMENTS SPECIAL ARTIST RESIDENCY
TERMS OF 3 WEEKS (EXTENDABLE)
The Mexican Textiles Special Artist Residency is an Art Production Residency which includes 3 weeks of master instruction in Mexican textiles. Residents learn how to weave using the traditional back strap loom, how to assemble it, and basic weaving techniques, or they learn Mexican embroidery techniques, for which we offer instruction in the following: cross stitching, chain stitching, shading and pepenado hilván. Each technique is offered as its own individual program. Artists wishing to do both weaving and embroidery may apply for two back-to-back residencies totaling 6 weeks.
The Natural Pigments Special Artist Residency is an Art Production Residency which includes 3 weeks of master instruction in diverse techniques from Oaxaca that vary depending on the supporting fiber; the options are wool, silk and paper. Residents learn how to prepare natural pigments, fixatives and alcohol-base preparations. Pigments included are cochineal, indigo and pericón.
RESIDENCY GUIDELINES
• Selection decisions are based on artistic work. Candidates at all stages of their careers (emerging and established) must demonstrate a sense of potential.
• Our pool of applicants and residents is diverse in all aspects.
• Our residency programs are opportunities for artists to pursue their own work, free of pressure (especially work that in their particular circumstances would normally be difficult to produce).
• The creation of community among fellow artists and staff during the residency period is important.
ALL-INCLUDED IN ARQUETOPIA OAXACA ARTIST RESIDENCIES
Comfortable Accommodation and Meals:
Residents enjoy spacious, comfortably furnished bedrooms (rooms feature main level or loft accommodation) with full-size beds and use of Arquetopia Oaxaca's well-equipped residency space including wireless Internet, kitchen, dining area, covered outdoor patio and terrace space, and private bathrooms with modern fixtures and showers. Daily meals, open access to the kitchen, and housekeeping are also included.
Studio and Materials:
Roomy indoor and outdoor art studio are provided with personal work space, large tables, tools, basic materials and supplies. In cases where a specific technique, space and/or materials are not available for a proposed project, our foundation will work with the artist and community on alternatives that will suit the work. Access to special facilities (such as the printmaking or ceramics studios) is also provided depending on the chosen technique.
OAXACA, MEXICO
Arquetopia Oaxaca is located right in the heart of Oaxaca's Historic Monuments Zone. Only two blocks from the popular Calle de Alcalá (a picturesque street known for its restaurants, museums, shops, and nightlife), our spectacular and newly renovated adobe casona, hosting up to ten artists at a time, is also two blocks from the extraordinary Santo Domingo church and museum.
The beautiful colonial city of Oaxaca is nestled in a valley in the Sierra Madre mountain range of Southern Mexico. Oaxaca is located 450 km (280 miles) southeast of Mexico City and reachable via three international airports: Oaxaca (OAX), Puebla (PBC), and Mexico City (MEX). Oaxaca boasts magnificent colonial architecture, the most outstanding example being Santo Domingo church and its former convent, now home to an impressive museum. The unusually colorful city and its surrounding areas also feature a high concentration of native Zapotec and Mixtec cultures and archaeological sites. Oaxaca was designated a UNESCO World Heritage Site in 1987 for its central Historic Monuments Zone and the archaeological site of Monte Alban. Getting around Oaxaca is easy and enjoyable; museums, studios, libraries and landmarks are all in walking distance. At an elevation of 1555 m (5100 ft), Oaxaca features a subtropical climate, resulting in mild-to-warm temperatures year-round.
Rich in history and culture, Oaxaca is a fascinating destination where you can appreciate ancient civilizations, colonial art and architecture and vibrant cultural traditions. Oaxaca is one of the safest Mexican tourist destinations you could choose.
RESIDENCY PERIOD/TERM LENGTH
Terms of 3 weeks, extendable as an Art Production Residency for up to 24 weeks.
RESIDENCY PROGRAM FEE AND INCLUSIONS*
USD $695 per week for 3 weeks, extendable as an Art Production Residency at an additional USD $595 per week.
USD $200 Residency Deposit due within 10 days of selection notification.
Total Residency Program Fee due by 60 days prior to residency start date.
*Residency Program Fee includes accommodation; daily meals and open access to the kitchen; housekeeping; master instruction; studio space; BASIC materials, supplies and tools. In contrast to vacation resorts and B&B's marketing themselves part-time as quasi art residencies, both Arquetopia and Arquetopia Oaxaca have always been professional spaces exclusively for artists and include structured programs; a network of collaborative workspaces, institutions, and studios; and project support. The residency program fee covers the costs of our facilities, a small staff, utilities, typical art materials and supplies, meals, and housekeeping. For the Special Instructional Residencies we offer, the instruction our residents receive from the master artists we contract –many of whom are local and indigenous artists from the poorest communities– is also funded directly from the residency program fee.
Following selection, applicants are notified immediately via e-mail.
Arquetopia is committed to providing an inclusive and welcoming environment for all members of our diverse local and international community. Arquetopia's resident artist and staff backgrounds vary in all aspects. As part of Arquetopia's mission is to promote diversity, Arquetopia actively fights discrimination by offering access to its programs, activities, and employment without regard to race, color, gender or gender expression, national origin, age, religion, creed, or sexual orientation.