Art Educators Special Residency 2014 - Arquetopia - Puebla, Southern Mexico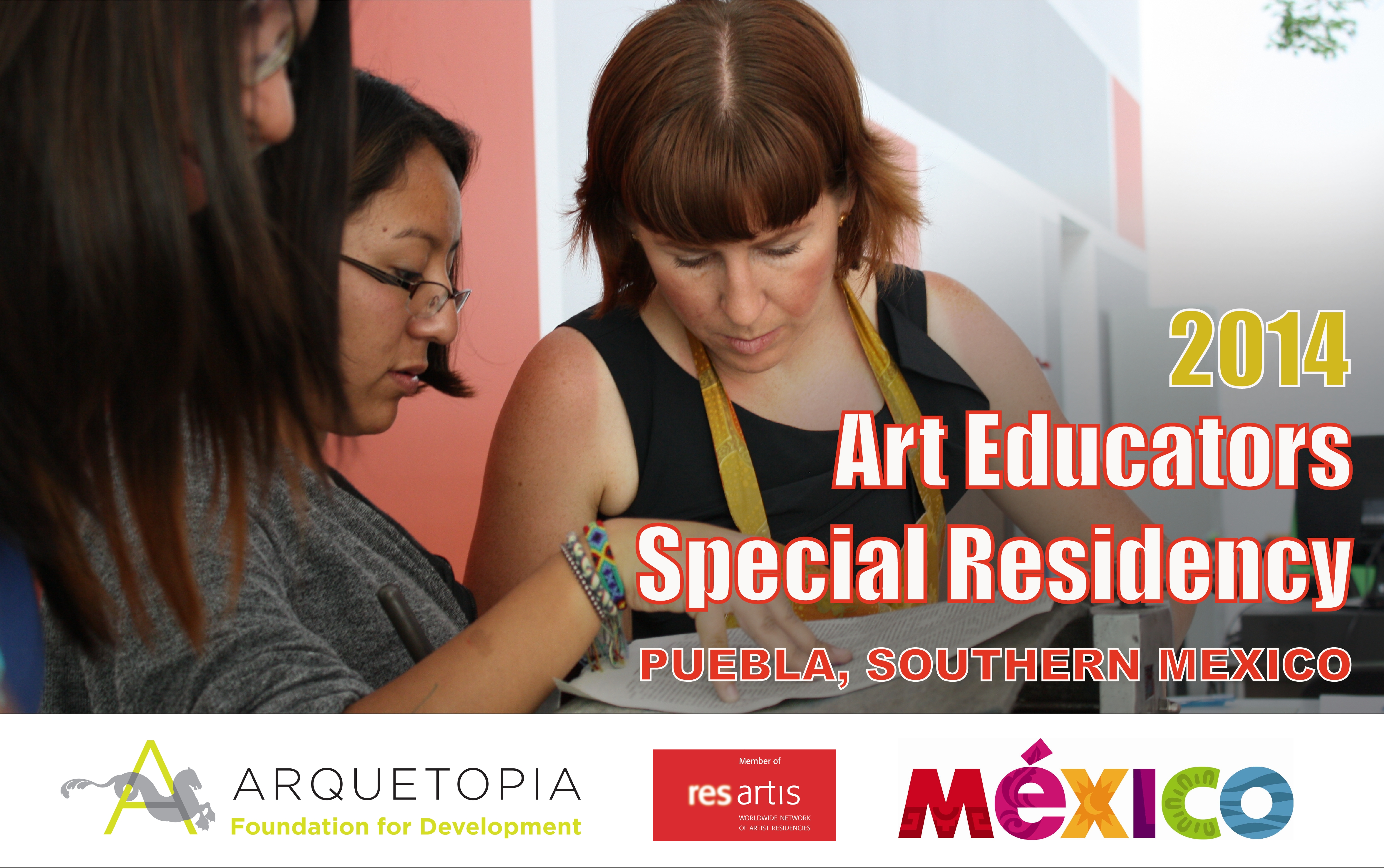 Type
Other, Residency, School & Class
Category
Activism, Architecture, Conceptual, Curating, Desi...
Status
Archived
Deadline
January 25, 2014
Application Fee
Not Available
Host
ARQUETOPIA foundation and international artist residency (PUEBLA)
Location
Puebla, Mexico
Art Educators! Develop new art education projects with students and explore diverse pedagogic techniques with multiculturalism in Mexico's prominent museums. Extendable 4-week terms during 2014 in the magnificent Spanish colonial kaleidoscope of Puebla. Application Deadline Sunday, January 26, 2014.
ARQUETOPIA
Arquetopia is a nonprofit foundation for visual arts and music, run entirely by artists. Arquetopia's programs promote development and social transformation through contemporary art with a non-traditional, culturally diverse and multidisciplinary approach. Arquetopia offers artist residency programs of the highest quality, making its staff available and creating a community among staff and resident artists. Arquetopia's resident artist and staff backgrounds are diverse in all aspects. As part of Arquetopia's mission is to promote diversity, artists from Africa, Asia, Eastern Europe, Latin America and the Middle East are especially encouraged to apply.
ART EDUCATORS SPECIAL RESIDENCY - TERMS OF 4 WEEKS, EXTENDABLE
The Art Educators Special Residency offers important professional opportunities for national and international art educators age 25 and over. Our programs are oriented to promote social consciousness, and educators are strongly encouraged to address social themes, and explore intercultural dialogue as part of their artistic and educational goals for their residency project. As Arquetopia's mission is to promote social transformation, understanding Mexico's context, and specifically Puebla and Oaxaca's cultural complexity, is key for a successful cultural exchange. Since our approach is contemporary, we welcome art educators with diverse approaches and experience who are interested in developing educational projects, exploring different pedagogic methods in a museum setting, and promoting multicultural dialogue by addressing social themes through the arts.
The Art Educators Special Residency is a unique opportunity to work at prominent museums and art centers in Puebla or Oaxaca with diverse groups of students from 6 to 18 years old. Projects should make an emphasis in both the process and end result, promoting activities in which students play an active role, integrating the cultural-exchange experience as part of the teaching-learning process. All proposals should include 1) an introduction describing the educational approach, pedagogic references, etc.; 2) a description of the proposed activities, goals, target students, equipment and materials needed; and 3) a description of the expected educational outcomes.
RESIDENCY PROGRAM GUIDELINES
• Selection decisions are based on work experience and artistic merit. The residency is for art educators who want to explore diverse pedagogic methods, developing students' critical judgment and aesthetic appreciation.
• The residency pool is diverse in all aspects.
• The creation of community among fellow artists and staff during the residency period is important.
ALL-INCLUDED IN ARQUETOPIA ARTIST RESIDENCIES
COMFORTABLE ACCOMMODATION AND MEALS
Residents enjoy comfortably furnished bedrooms and use of Arquetopia's residency
space including wireless Internet, lounge with TV/DVD and games, kitchen, dining room, outdoor terrace, and private bathroom with modern fixtures, shower, and hydro-massage tub. Daily meals, open access to the kitchen, and housekeeping are also included.
STUDIO AND MATERIALS
Roomy indoor and outdoor art studio are provided with personal work space, large tables, tools, basic materials and supplies. In cases where a specific technique, space and/or materials are not available for a proposed project, our foundation will work with the artist and community on alternatives that will suit the work. Access to special facilities (such as the printmaking or ceramics studios) is also provided depending on the chosen technique.
PUEBLA, MEXICO
A large, unique three-story Mexican colonial-style house close to Puebla's Historic District and Zócalo accommodates the offices, residency space for up to seven artists, and production spaces of Arquetopia.
Known as the "City of Angels," Puebla is a UNESCO World Heritage Site that lies 136 km (84 mi) from Mexico City and has approximately 5,000 colonial buildings. Puebla is famous for a deep cultural identity, delicious cuisine, Talavera ceramics, and traditions rooted in the 16th-century Baroque and enriched by a blend of five pre-Hispanic/indigenous cultures, Arabic, Jewish, French and Spanish influences. Accessible via two international airports in Puebla (PBC) and Mexico City (MEX), Puebla lies 45 km (28 mi) east of the Popocatépetl and Iztaccíhuatl volcanoes, giving the residents a magnificent view of their snow-topped peaks. At an elevation of 2200 m (7200 ft), Puebla features a temperate subtropical highland climate, resulting in an average of only three days a year seeing temperatures rise above 29°C (84°F).

Lonely Planet, the world's largest travel guide book and digital media publisher, announced that Puebla made its Readers' Choice Top 10 "Best in Travel" list for 2012. A recent New York Times article named Puebla as #13 of the "45 Places to Go in 2012," and The San Francisco Chronicle recently named Puebla as one of the top five safest places in Mexico for travelers.
RESIDENCY PROGRAM FEE AND INCLUSIONS*
USD $575 per week for 4 weeks, extendable as an Art Production Residency at USD $495 per week.
USD $200 deposit due within 10 days of selection notification.
Total Residency Program Fee due by 60 days prior to residency start date.
*Residency Program Fee includes project coordination; accommodation; daily meals and open access to the kitchen; housekeeping; studio space; BASIC materials, supplies and tools. In contrast to vacation resorts and B&B's marketing themselves part-time as quasi art residencies, both Arquetopia and Arquetopia Oaxaca have always been professional spaces exclusively for artists and include structured programs; a network of collaborative workspaces, institutions, and studios; and project support. The residency program fee covers the costs of our facilities, a small staff, utilities, typical art materials and supplies, meals, and housekeeping. For the Special Instructional Residencies we offer, the instruction our residents receive from the master artists we contract –many of whom are local and indigenous artists from the poorest communities– is also funded directly from the residency program fee.
E-mail
info@arquetopia.org
for more
information
or to request a
printable PDF application form
to complete by hand.
Complete and submit the Arquetopia Artist-in-Residence
Online Application Form 2013-2014
, following the instructions on the web page.
Following selection, applicants are notified immediately via e-mail.
Arquetopia is committed to providing an inclusive and welcoming environment for all members of our diverse local and international community. Arquetopia's resident artist and staff backgrounds vary in all aspects. As part of Arquetopia's mission is to promote diversity, Arquetopia actively fights discrimination by offering access to its programs, activities, and employment without regard to race, color, gender or gender expression, national origin, age, religion, creed, or sexual orientation.