Call for Artists: Borders & Identities - October 05, 2013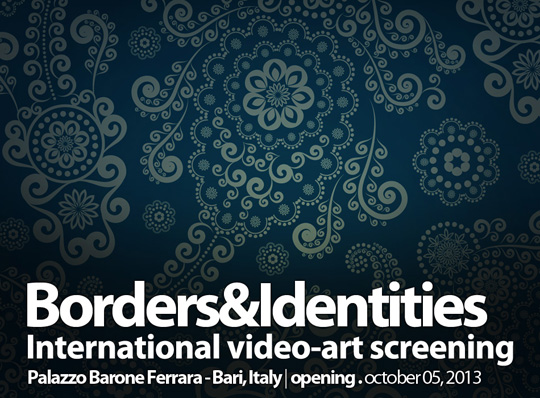 Type
Exhibition
Category
Film, Video
Status
Archived
Deadline
October 2, 2013
Application Fee
Not Available
Host
Location
Bari, Italy
Call for Artists: Borders & Identities - October 05, 2013
International Video-Art exhibition
Deadline: October 03, 2013

International ArtExpo is selecting all interesting video/short films to include in "Borders & Identities" exhibition, during the 9th Giornata del Contemporaneo - the Day of Contemporary Art - on October 5, 2013, in the prestigious Palazzo Barone Ferrara in Bari (Italy).

Palazzo Barone Ferrara is a magnificent historic building of XIX century, symbol of importance and progress of the city. Located in the centre of Bari, is the headquarters and exhibition space of BancApulia bank.

The Day of Contemporary Art is the major annual event promoted by the AMACI - Association of Italian Museums of Contemporary Art and it focuses on the art of our times and its public. It will be held throughout Italy to experience the complex and lively world of contemporary art. Since its inception, the Day of Contemporary Art has been supported by the Ministry of Cultural Heritage and Activities, and has obtained not only the High Patronage of the President of the Italian Republic but also the sponsorship of Italy's leading institutions.

"Borders & Identities" exhibition will be based on main concept of hybridization between identities and urban environment, as the result of liquid identities and liquid contacts between people.

The deadline for applications is October 03, 2013.

The event is open to video-art only

To take part in the selection, send your videos' submissions with a CV/biography, videography and some still images via email to lucacurci@lucacurci.com or via mail to:

International ArtExpo
Corso Vittorio Emanuele II, 33
70122 Bari, Italy

The number of works you can submit is free and unlimited. The participation in the International Art Festival requires an entry fee only for selected artworks. Participation open to: artists, architects and designers, associate groups and studios.

International ArtExpo is an art organization that provides a significant forum for cultural dialogue between all artists from different cultures and countries. ArtExpo is grateful to all of the institutions, corporations, and individuals who support our artistic projects. We work with a number of national and international galleries as well as publishers, museums, curators and critics from all over the world. We help artists through solo and group exhibitions, gallery representation, magazine reviews and advertisements, press releases, internet promotion, as well as various curatorial projects.

International ArtExpo
Corso Vittorio Emanuele II, 33
70122 Bari (Italy)
+39.0805234018
+39.3387574098
lucacurci@lucacurci.com
www.lucacurci.com/artexpo