The Summer Show Project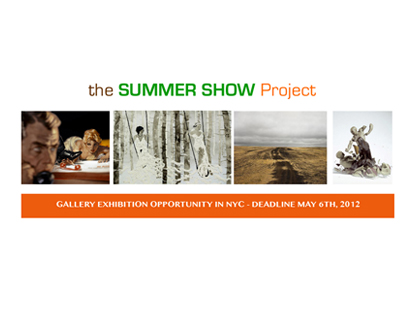 Type
Exhibition
Category
Drawing, Mixed Media, Painting, Photography, Print...
Status
Archived
Deadline
May 5, 2012
Application Fee
Not Available
Host
Location
New York, United States
http://www.thesummershowproject.com" target="_blank">The Summer Show Project offers the unique chance for artists to work directly with http://www.foleygallery.com" target="_blank">FOLEYgallery. The exhibition will feature one artist that works with photography and one artist that makes works on paper.
This initiative will provide an opportunity for emerging or under represented artists to have their work seen, recognized and reviewed in a professional gallery setting.
Upon acceptance, you will work on your own and with the guidance of gallery owner Michael Foley to create a well curated two person exhibition.
This is the third year for The Summer Show Project. We invite you to submit your work to participate in this unique opportunity and share the experience of exposure, guidance, feedback, community, recognition and support.
We invite artists from all disciplines to apply who work in photography and works on paper. The Summer Show Project is open to all artists world wide.