Out of Center: Arts in Academia (Interviews)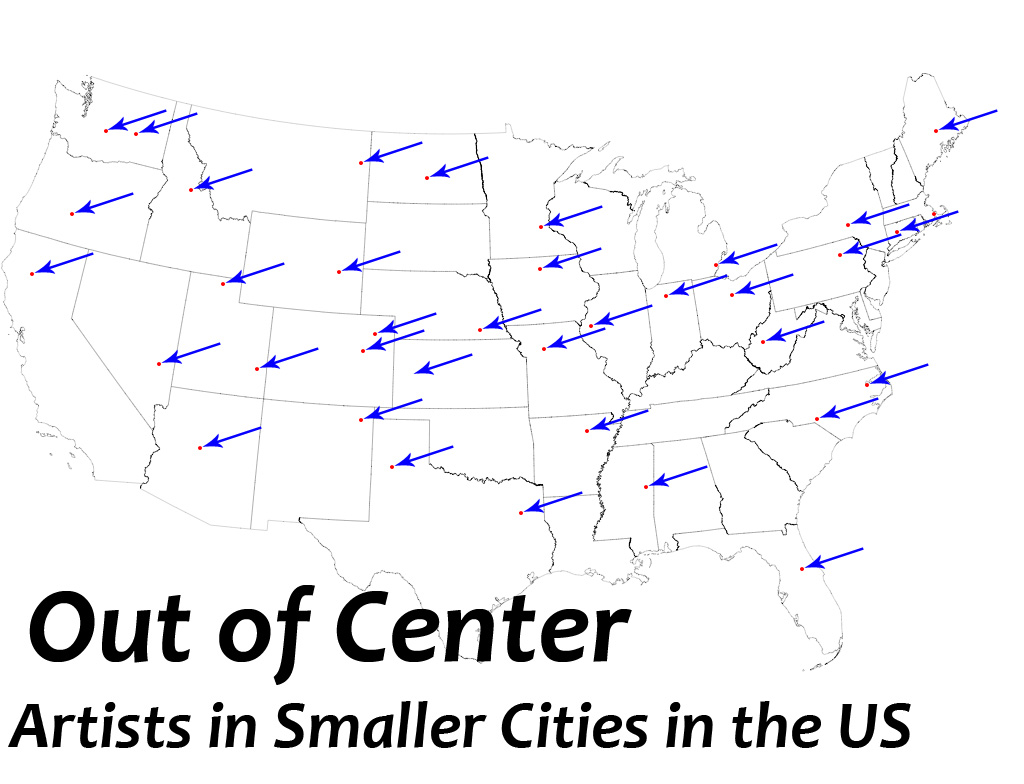 Type
Publication
Category
Activism, Architecture, Conceptual, Curating, Desi...
Status
Archived
Deadline
April 25, 2012
Application Fee
Not Available
Host
Location
Indianapolis, IN, United States
I am working on a book of interviews by artists, especially in academia, who live in smaller cities in the US. Basically I'm avoiding New York, LA, and Chicago. Most of the rest of us don't have the same level of concentrated artwork and creative activity and I'm interested in how we sustain ourselves without it. I've been able to get a few interviews from people I know, but I'm looking for more variety and that's why I'm seeking people who I don't know but work in art programs around the country.

I do not have a publisher for the book yet. It will most likely end up being an E-Book that will be for sale cheaply on Amazon and such. If I can find a traditional publisher, that would be great too, but I'm really interested in just getting the information and getting it out to other artists especially students who are looking at making long term plans.
Just a bit about me: I received my BFA from the University of Florida, my MFA from Cal State Long Beach and have been an assistant professor of photo and intermedia at Herron School of Art and Design in Indianapolis for the last five years. I run a small gallery here, SpaceCamp MicroGallery. I travel to make and show my work a lot but am interested in how everyone else does it as well.
If you are interested, please see the information below. The questions are also to be found there. Please contact me with any questions. I have an assistant, Laura, dedicated to this task right now so I'd love to have the interviews back by April 26th (or sooner!) so she can help edit and get it into working order, maybe even published, by the end of the term. But if you can't get it in by that time, feel free to still send in later. Everyone that participates will get a free copy but there is no pay. Please email responses or questions to studioassistant@photoflounder.com
Please feel free to forward this far and wide, I'd love to have a range of artists/curators/etc. At this time, though I'm only interested in interviews from people in the visual arts, not music or theater. Trying to keep it a little more focused.
----------------------
Some thoughts up front
Not everyone is, or even wants to be, in an "art center". Most of us live in the other places. Many are happy about this, some are not. We want to hear a variety of opinions here.
Feel free to leave any questions out you don't want to answer or aren't relevant for any reason.
Feel free to rewrite a question slightly to make more sense to your particulars such as changing "teaching situation" to "working situation."
You can either go for straight question and answer format, or you can go for more narrative, or you can surprise us with something completely different!
You can be as anonymous or as open about your identity as you wish. If you are going to write a scathing review of your town and don't want to piss off your one local gallery, then feel free to go anonymous.
Write in whatever style suits you.
Interviews may be edited for grammar and length, but not style or content. Really this part is more dependent on what the final form of this ends up being.
A short book might not lend itself to long questions or tons of interviews, but they will all find a home somewhere such as a blog complimenting the book.
Any input on book publishers that might be interested in this would be appreciated. I'm not opposed to self-publishing, but would prefer the traditional way.

Questions
Name? Location? Job? Website?
Where'd you go to school?
What is your teaching situation like: load, students, colleagues, support for research/creative activity, etc?
Briefly, where else have you lived as an adult and how does the art scene compare to where you are now?
Post grad school, have you had other primary jobs aside from teaching at the college level? If so, how do you compare the two? (if you don't teach now but have, swap these)
Do you have other roles that are important to your artistic career such as writer or curator?
Anything else you'd like to add to your bio?
What is your experience as an artist in a smaller cities and towns?
How do you stay connected to the regional, national, and international art world?
What are the advantages and disadvantages to living where you do?
Did you plan to live outside a "center"?
How do you participate in your local art scene?
What is great about your local art scene?
What would you like to change?
What are the best art venues in your town?
Where do artists live/work/play?
What are the regional cities that you go visit for art?
Anything else I forgot to ask?
Please email responses or questions to studioassistant@photoflounder.com